It's nearing the end of November, which means that it's Advent Calendar time! One of my favorite traditions around Christmas is the advent calendar. Christmas advent calendars are a fun way to count down the days until Christmas. Counting down to Christmas can help us keep track of the time remaining and add the excitement and joy to the upcoming holiday. You can purchase a advent calendar or make your own calendar. Shops have Advent calendars on display and sell as early as October, you can purchase one before December as often the shops will sell out really fast. But the best thing about making your own calendar is that you can put your favourite thing behind each door, or perhaps you could put the gifts you are most wanting Santa to bring you behind each door. Every morning you have the fun of finding the next door and seeing what's hiding behind it.
The traditional calendar is the window-styled Advent calendar with a chocolate treat behind each door. Advent Calendars today can not just be the chocolate or candy calendars. They are as different as a three dimensional house or church calendars, gifts and many fabric and wooden calendars. You can make a countdown advent calendar with anything you have with your endless imagination and creativity. Here we have some DIY Christmas countdown advent calendar ideas for 2019. Take a deep look and get some inspiration to make your own one for the upcoming holiday season!
Chalkboard Advent Calendar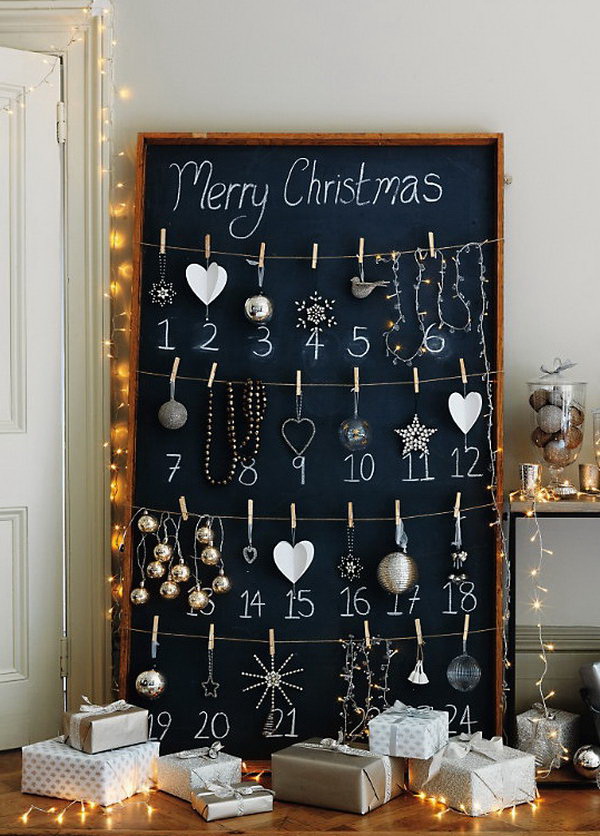 It is time to start making countdown calendar for Christmas. Christmas is closing in on us! This awesome chalkboard advent calendar is perfect for the holiday season. More details via The White Company.
Ladder Advent Calendar Decorated with Muslin Craft Bags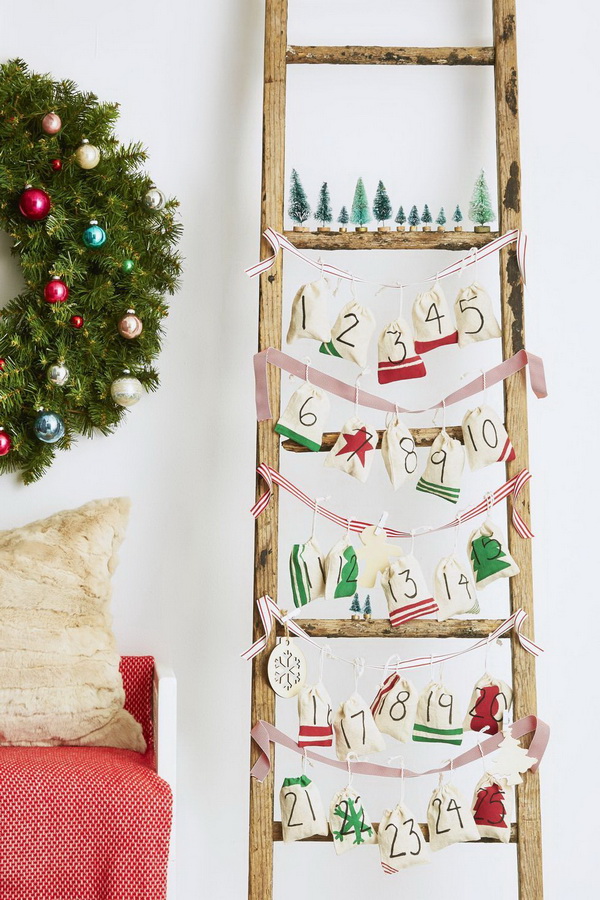 Create a DIY Advent calendar on a ladder or the tree. Decorated muslin craft bags and then fill them up with small treats. Hang them along ribbons on the wall and there is your advent calendar counting down till Christmas day! Get the tutorial via The Odyssey Online.
Modern DIY X-mas Calendar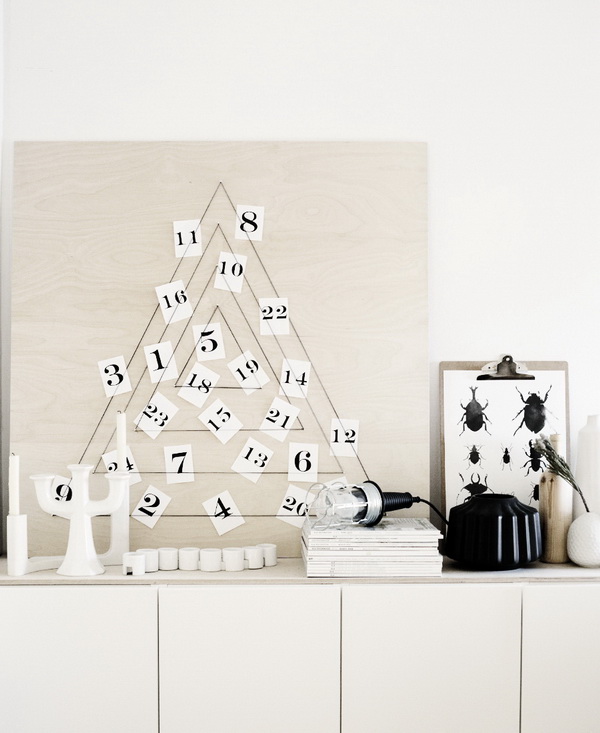 This year, try a modern version of advent calendar for your holiday. The sparkly white monochromatic and the modern tree will go well with your decor. Get the details via Week Day Carnival.
Home-Made Advent Calendar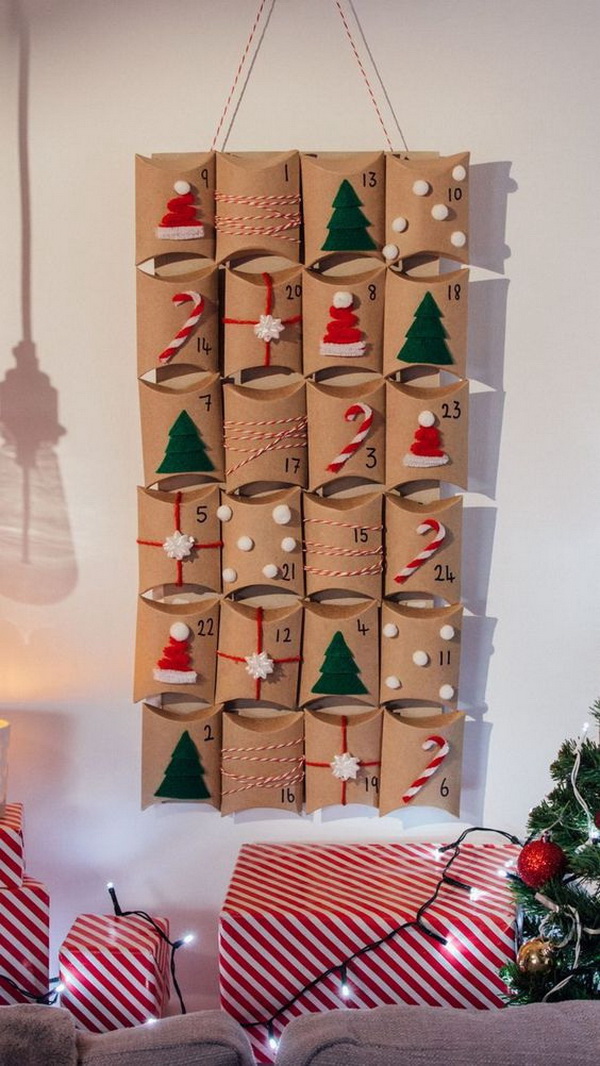 Here's another great DIY advent calendar brought to us. You'll just need some toilet paper rolls and then use your creativity to decorate them. DIY tutorial via Taste Made.
Paper Bags Advent Calendar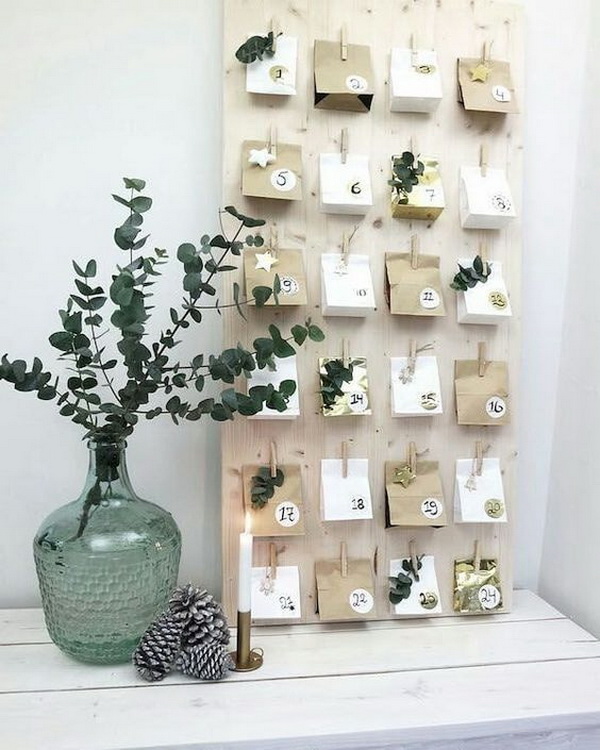 These paper bags advent calendar looks so simple but elegant for decorate and countdown to Christmas. via Instagram.
Christmas Advent Calendar Poster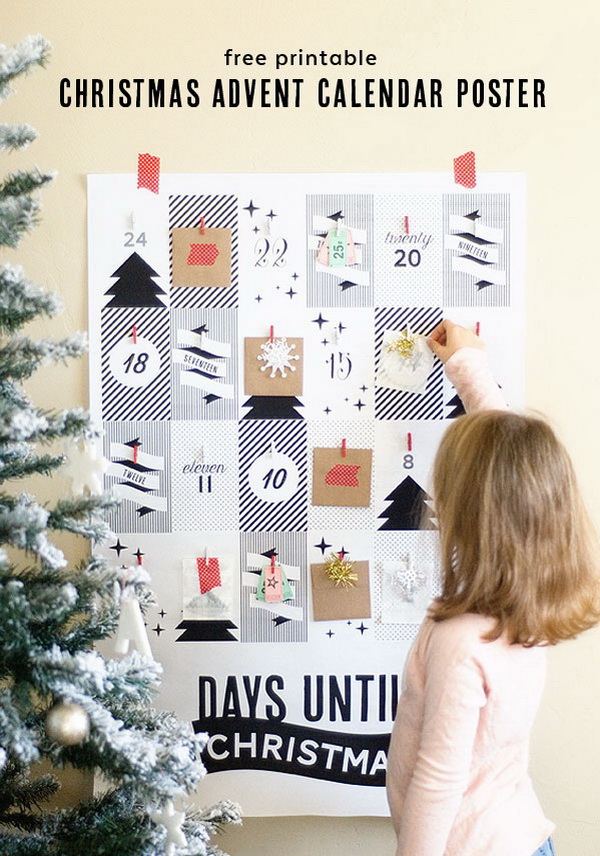 This advent calendar poster is definitely the prettiest one. And is super fun to decorate. Add one ornament to the tree every day until Christmas.
DIY Toilet Paper Roll Calendar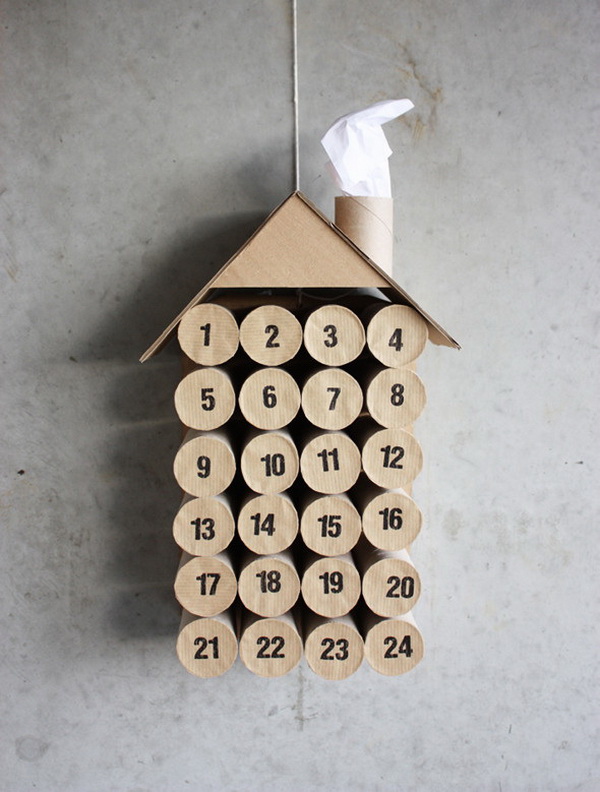 Make a DIY advent calendar for counting down the days until Christmas by upcycling toilet paper rolls into favor boxes. The best things of this project is that you do not need to pay much and do not need any special materials or tools to create it. All you need is a toilet paper rolls and a sheet of cardboard, which all you can find in your craftroom. Get the tutorial via Handimania
3D Paper Advent Calendar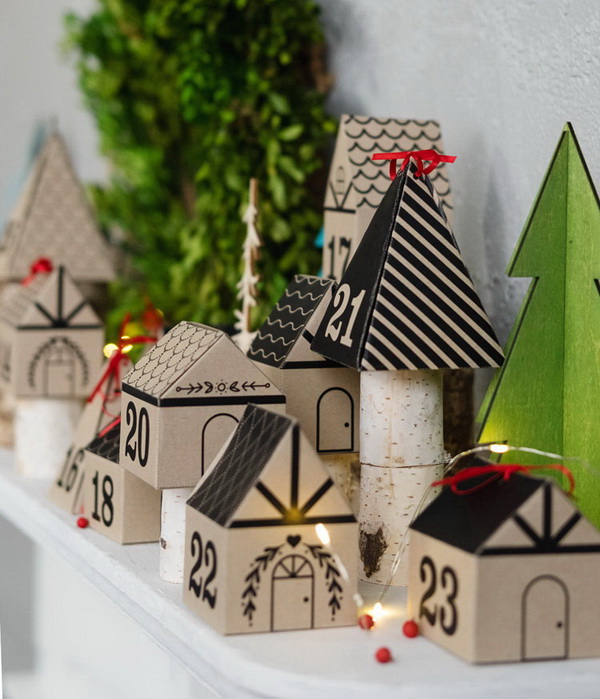 This 3D advent calendar village can be also used as great decor for mantel. The Bavarian-style drawings on these add more rustic and charm to this prject and your decor! Get the tutorial via Lia Griffith.
Stocking Garland Advent Calendar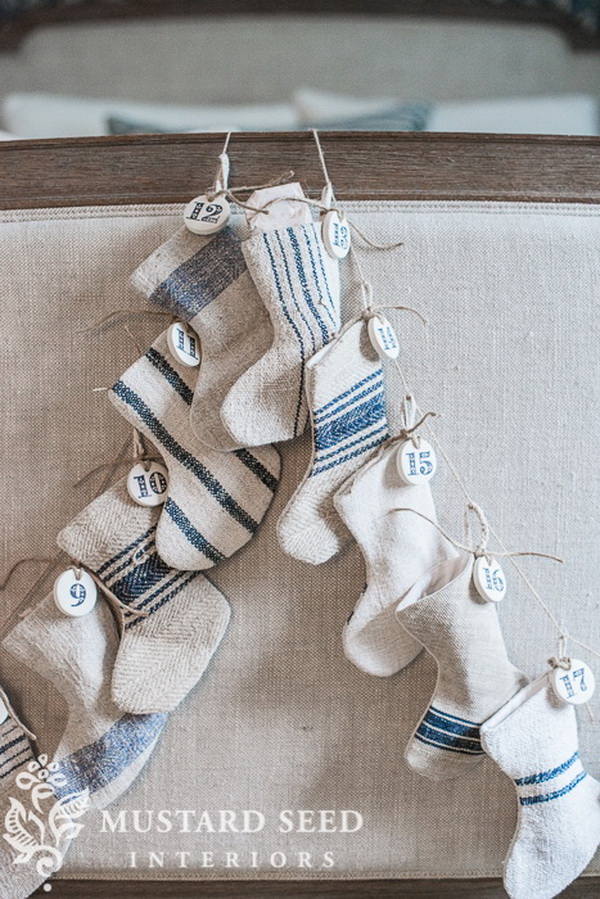 Creating a creative and rustic advent calendar by hanging up this cute sting of mini stockings in your home. More details via Miss Mustard Seed.
Felt Muslin Bags Advent Calendar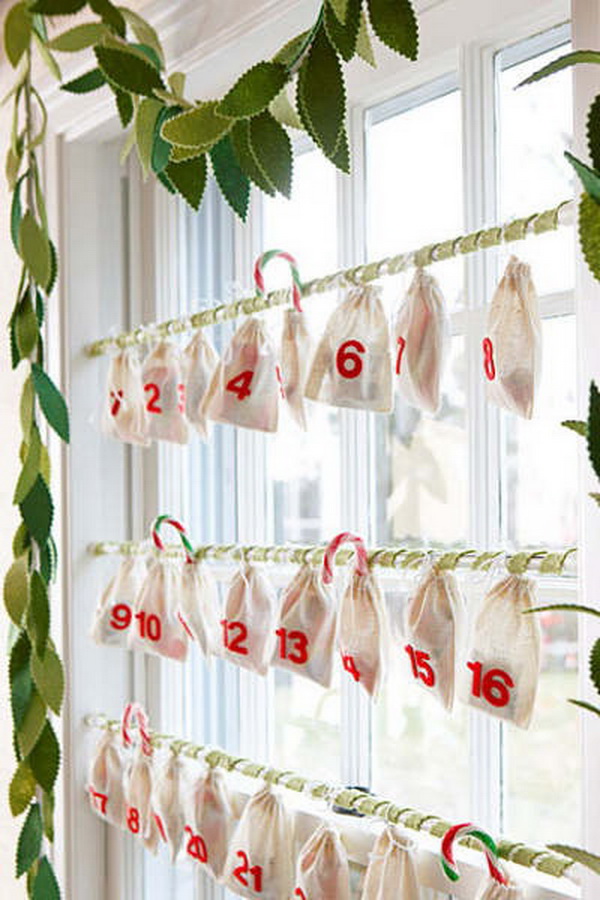 Dress the window up with this Advent calendar of muslin bags filled with treats and drape a garland of felt leaves along its frame. More details and DIY tutorial via Good Housekeeping.
Chalkboard Christmas Advent Calendar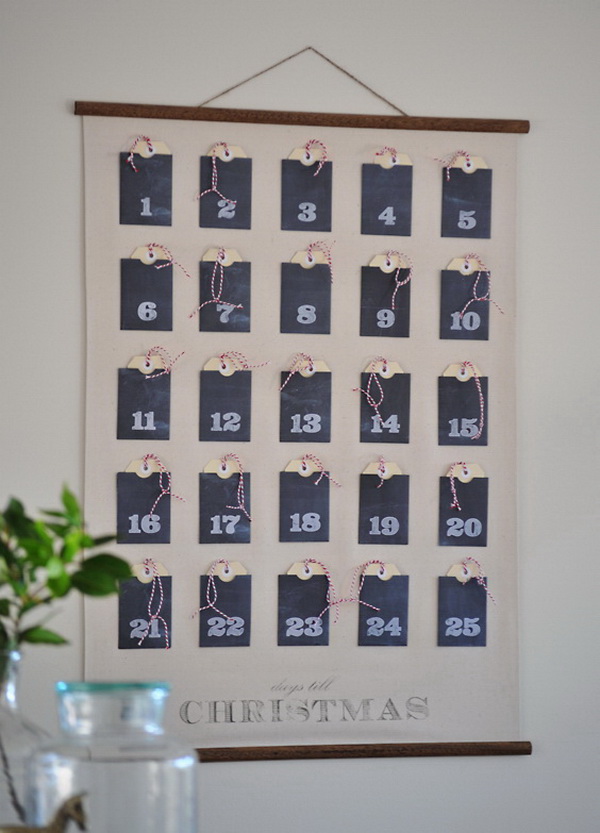 For a quick and simple idea for DIY advent calendar for Christmas, use wall charts, chalkboards, typography and bakers twine! via The Painted Hive.
Winter Woodland Advent Calendar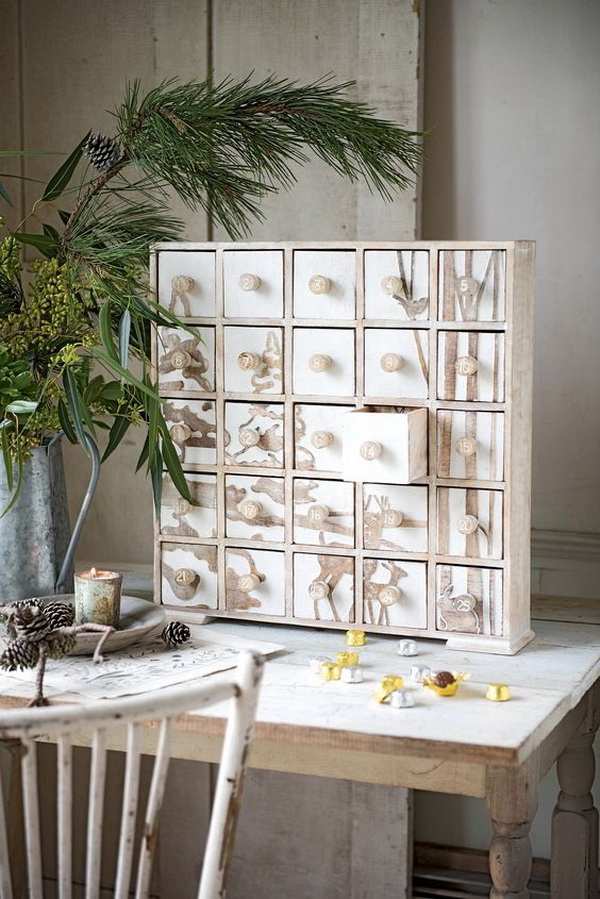 A sweet way to heighten the excitement and prolong the joy of your holiday celebration with this winter woodland advent calendar! It fits in any home's décor. Via Gardeners.
Refillable Chalkboard Advent Calendar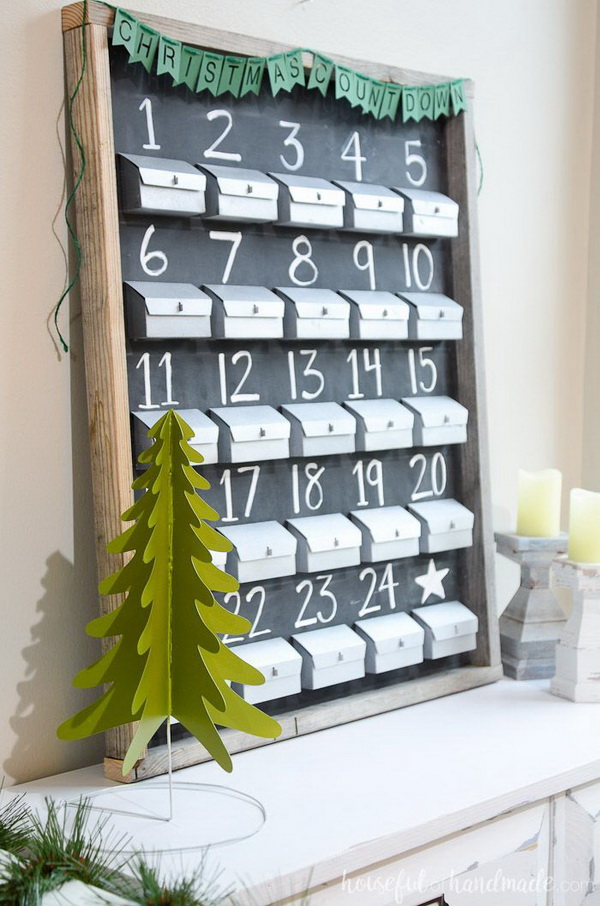 This chalkboard refillable advent calendar is made with 25 little paper mailboxes for you to fill up for each day in December. You can fill your own advent calendar with treats, small presents, or activities to help countdown to Christmas. Get the tutorial via Houseful Of Handmade.
Vintage Christmas Advent Calendar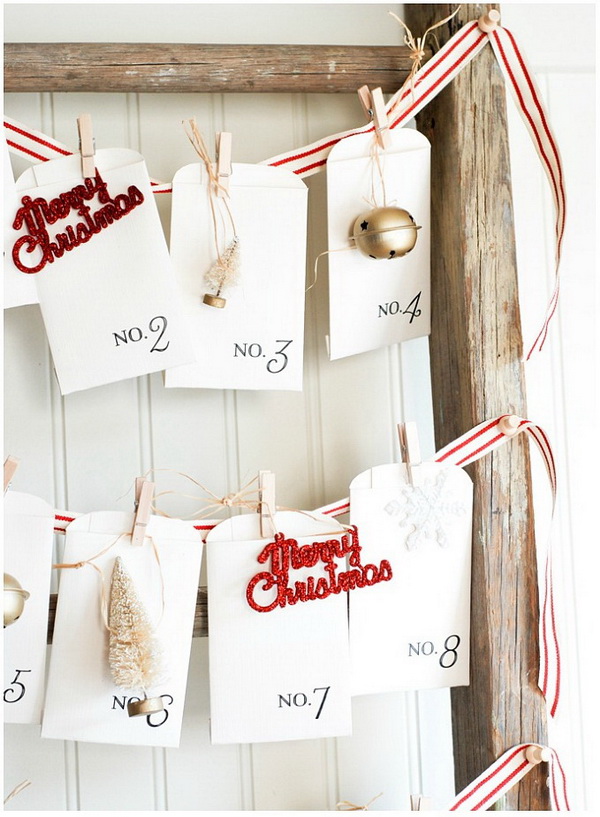 Make cards and envelopes on cardstock and hang them with ribbons and mini clothespins. This vintage Christmas advent calendar cards and envelopes must add some fun and new decor to your Christmas home this year. If you also love vintage Christmas, you can try this one out this year! Ge the tutorial via Ella Claire Inspired.
25 Acts of Random Kindness Countdown Calendar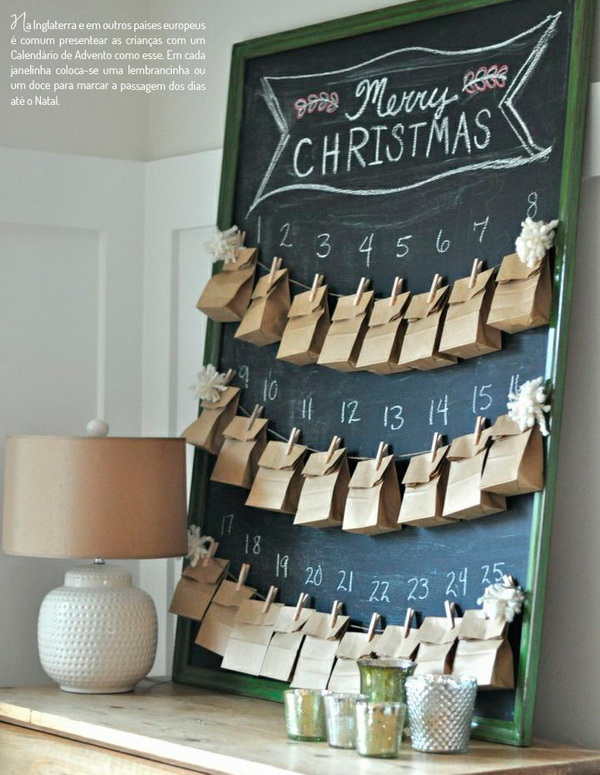 This creative advent calendar is designed with a calendar that counts down to Christmas with daily acts of kindness instead of gifts. Get the tutorial via Popsugar.
Christmas Tree Advent Using Branches And White Paper Bags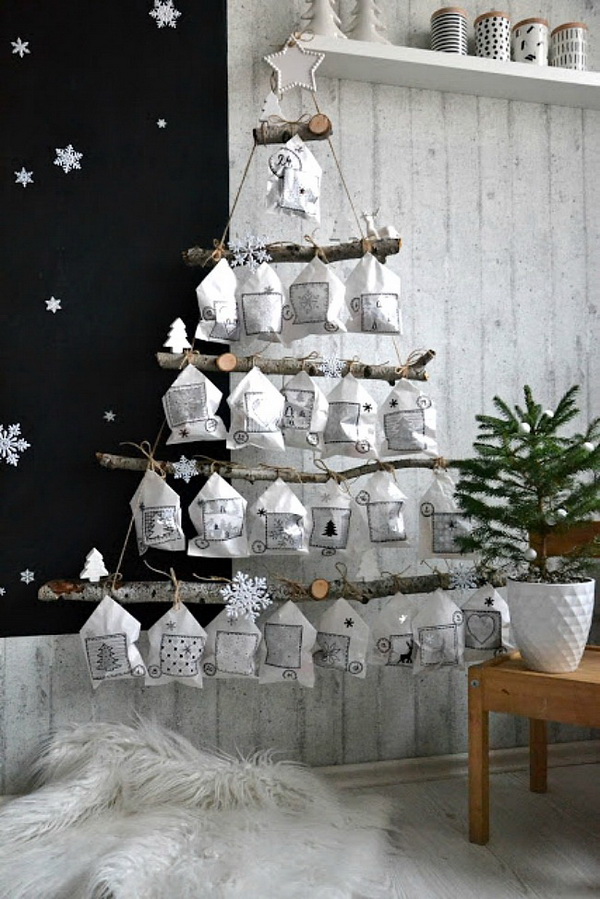 Kraft paper bags and some rustic branches make for an elegant combination for this rustic farmhouse decoration for Christmas home. Via Venoska Made.
Wooden Tree Advent Calendar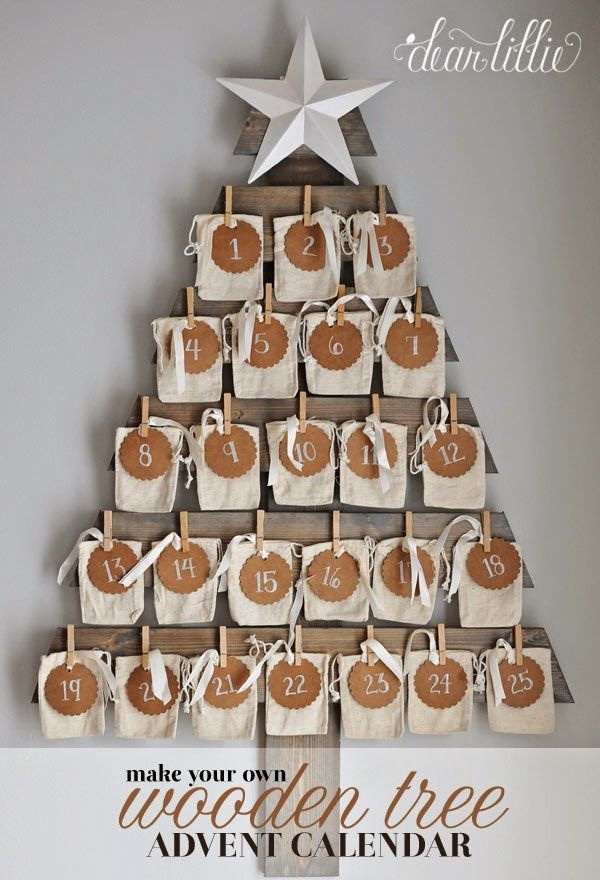 Get 25 little bags and carton tags and hang them in a Christmas tree shape. You can fill these little bags with small gifts or other little gadgets, holiday activity message and more. It makes a simple and beautiful decoration. via Dear Lillie Blog.
Holiday Activities Advent Calendar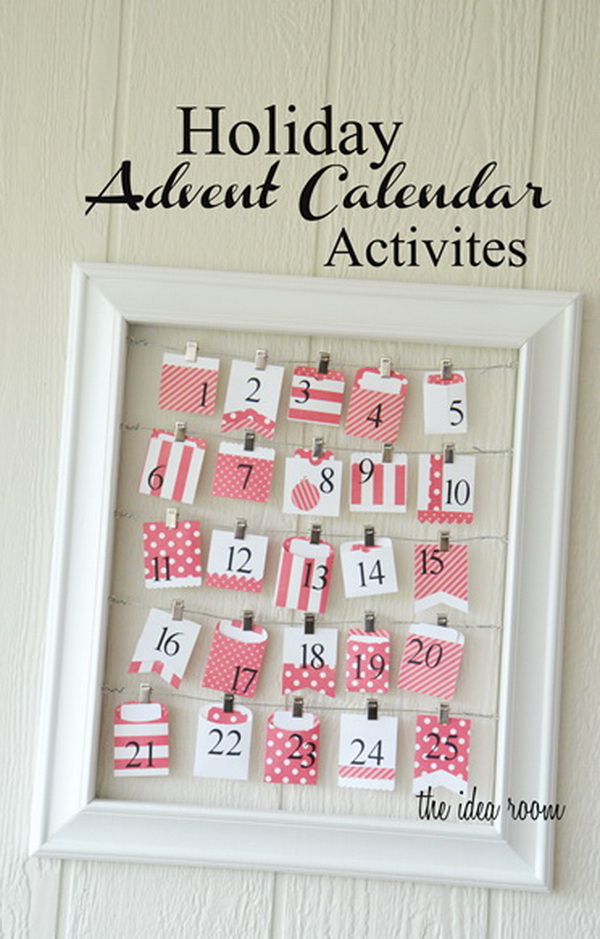 Not just the idea of a candy advent calendar, try this different Christmas activities for kids for your countdown till Christmas. Get the tutorial via The Idea Room.
Candy Bonbon Wreath Advent Calendar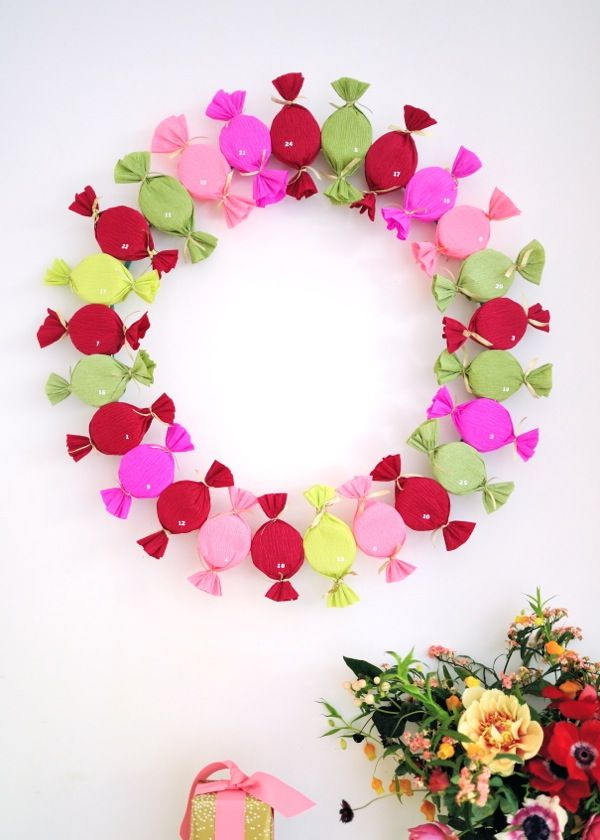 Count the days until Christmas morning by unwrapping a treat-filled piece of candy each day using crepe paper, which will add a burst of color to your holiday decor.
DIY Little Tubes Christmas Calendar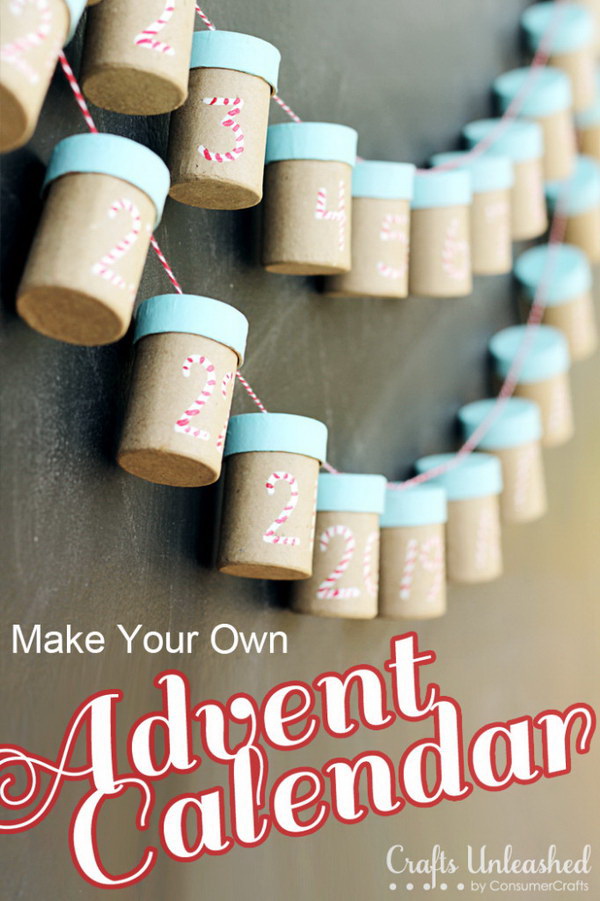 Find some little tubes and fill each of them with a small candy or a rolled up piece of paper with holiday activities. Give a surprise on each day when count down to Christmas! Get the tutorial via Consumer Crafts.
KISSmas Tree Advent Calendar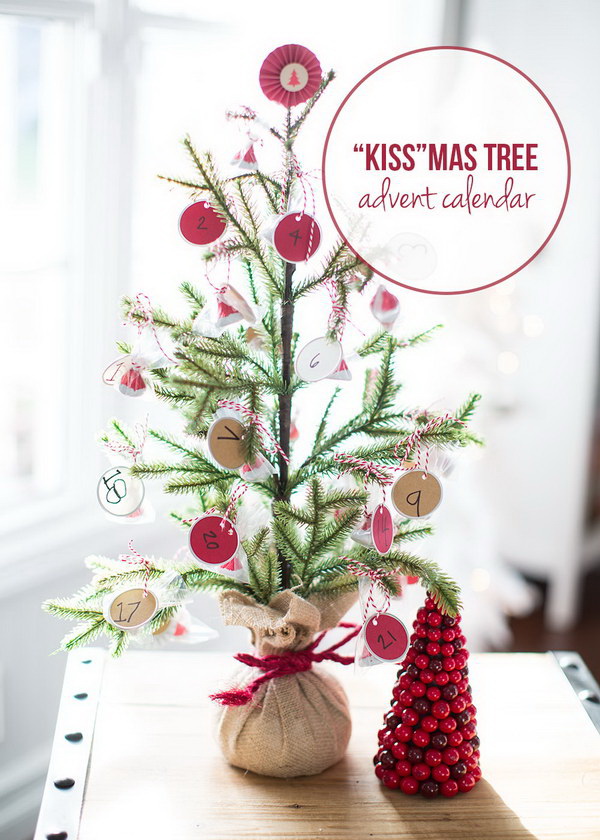 Another fun and easy way for the kids to count down to Christmas with this KISSmas tree advent calendar! Get to take one kiss ornament down from the tree each day and give you and your little ones a surprise. DIY tutoria via I Heart Nap Time.
Unwrapped Book Advent Calendar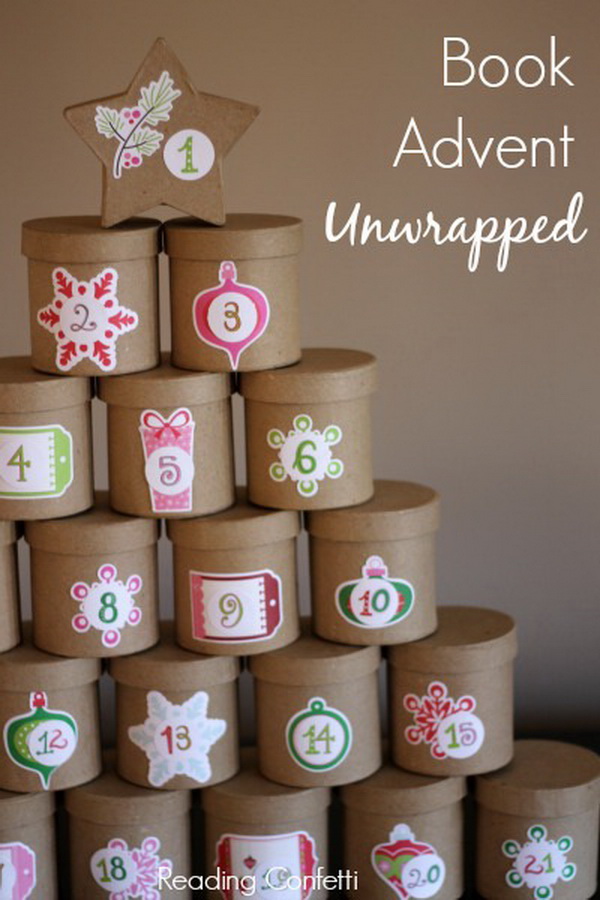 A fun way to use those little paper mache boxes to count down to Christmas! Use 23 round and 1 star shape and attach number cutouts and then stacked them into a Christmas tree shape. Get the tutorial via Reading Confetti.
Balloon Tree Advent Calenda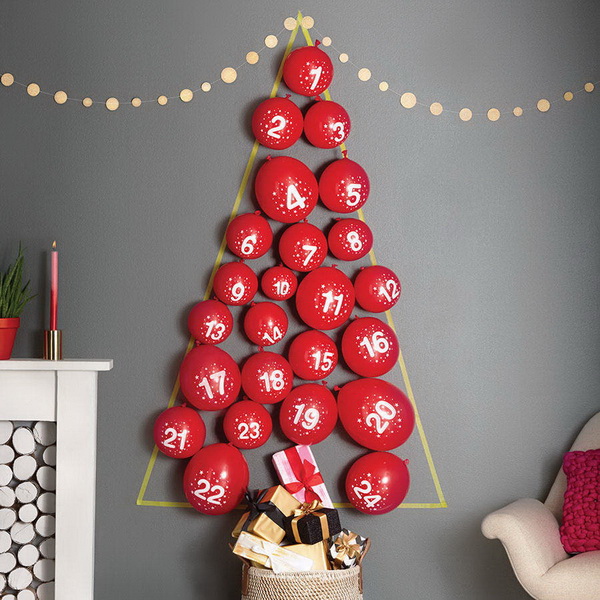 Try something new for a DIY advent calendar using balloons (helium or not)! Such an easy and inexpensive idea and hide your surprise in before blowing it up. Arrange the ballons in the shape of Christmas tree to add more holiday fun!