Stairs are a prominent feature of most homes and would be able to show the mood of your house and your personality as well. So getting the staircase with well prepared decoration for the holiday is important. A beautiful staircase can make a fantastic centrepiece to impress your guests, as well as serving a practical purpose. Whether your staircase is the first thing people see when they enter your home or it's tucked away, there are a lot of ways to add some festive flair to your banister. The most popular choice for staircase decorating at Christmas is typically an evergreen garland wrapped around the handrail. With a bit of vreativity and imagination, you can add more vibrant colors by adding silver ornaments or red ribbon bows, for example. If you are looking for a festive way to decorate your staircase this Christmas, we here got these 30 festive decoration ideas for Christmas staircases for you!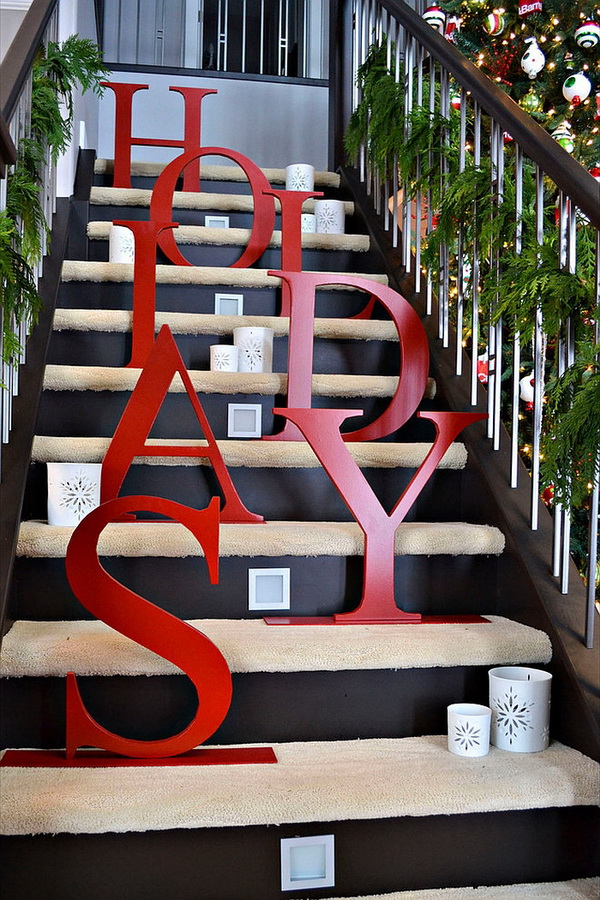 Bold holiday script in red steals the show on this staircase.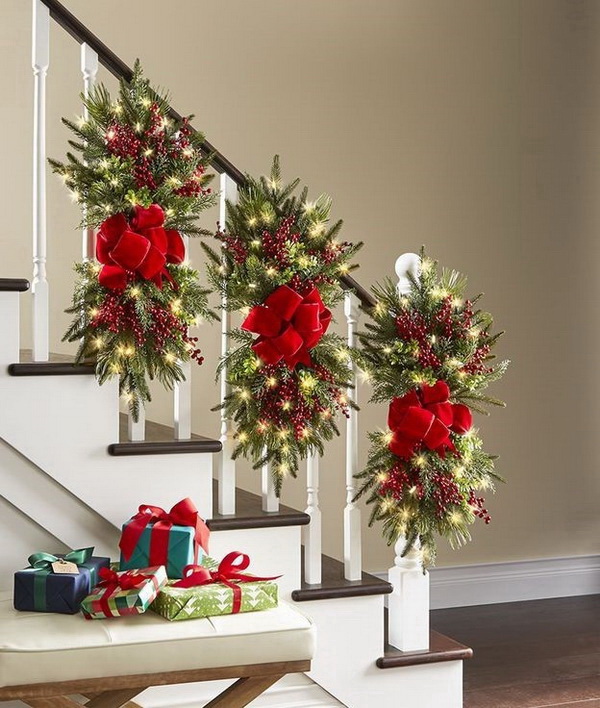 Three bouquets made with Christmas greenary, holiday string lights and red bow for stairs.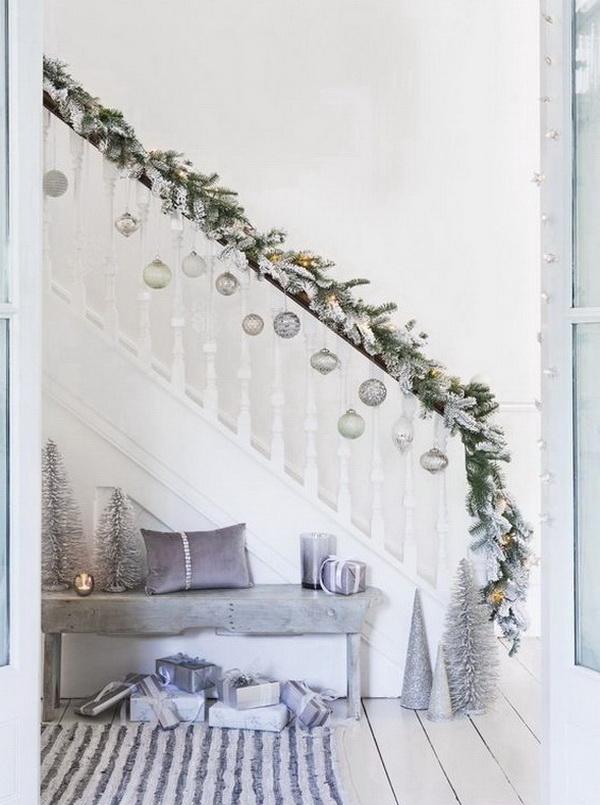 Frosted garland and silvery holiday ornaments for the staircase decoration.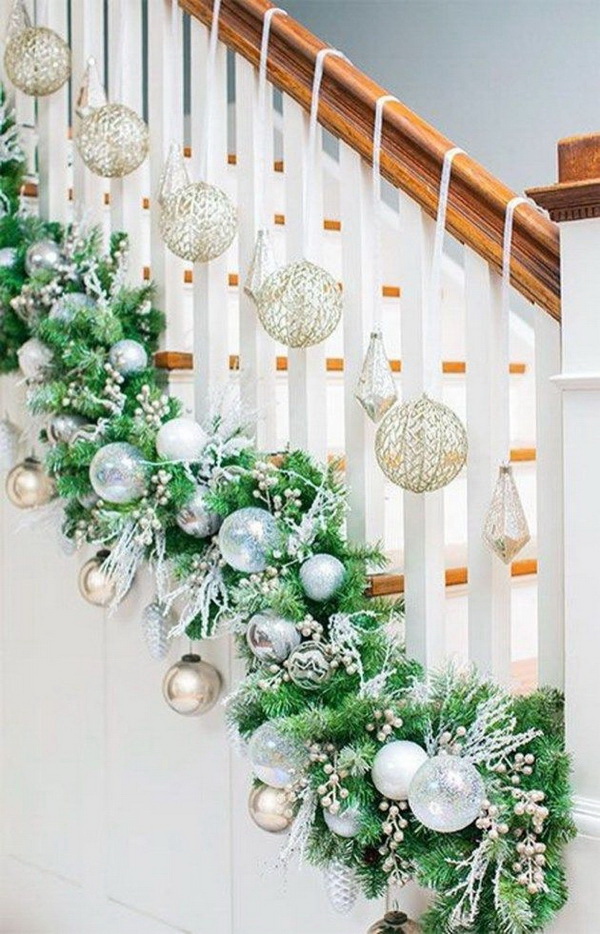 Low-hanging Christmas garland made with pine tree branches and silvery holiday ornaments around the handrail. Decorative hanging lanterns for the handrail.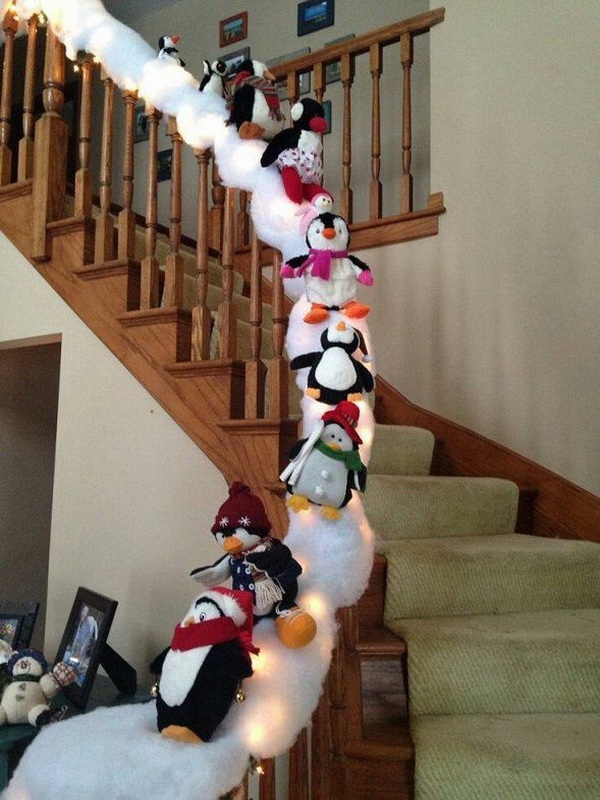 Penguin and lighted snow line the handrail.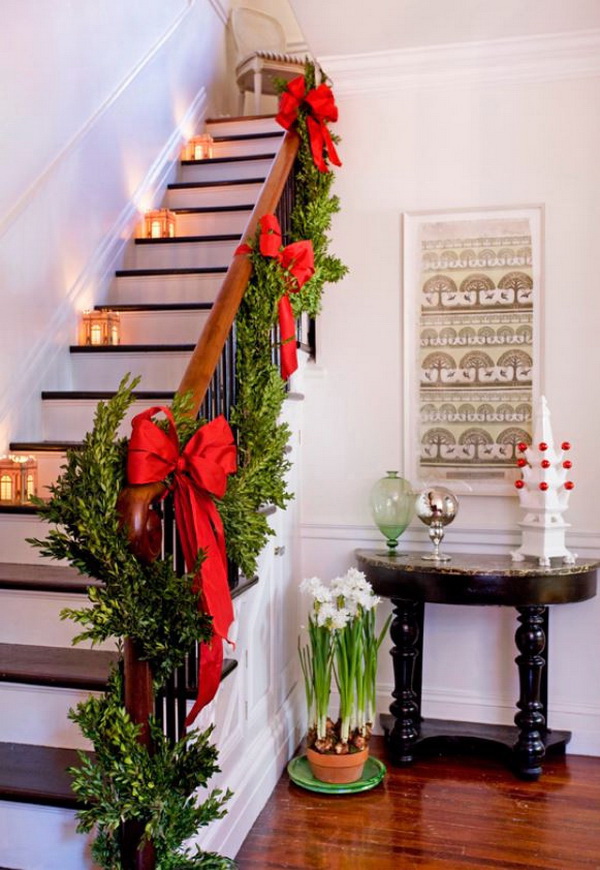 Lighted holiday lanterns for each two steps to light up the holiday flair. Enhance the staircase decoration with pops of traditional red and greens.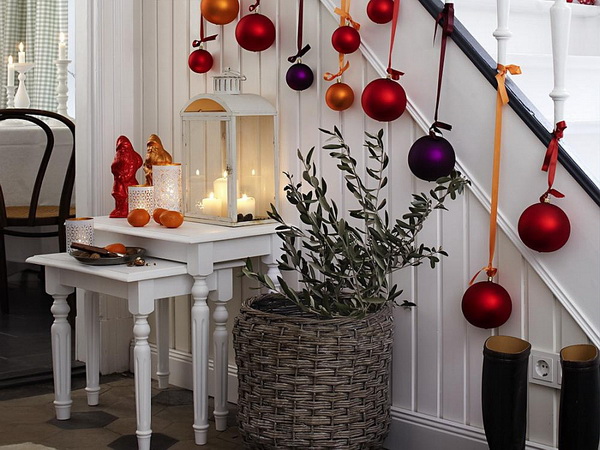 Simple staircase decoration with vibrant holiday ornaments to hang along the rail.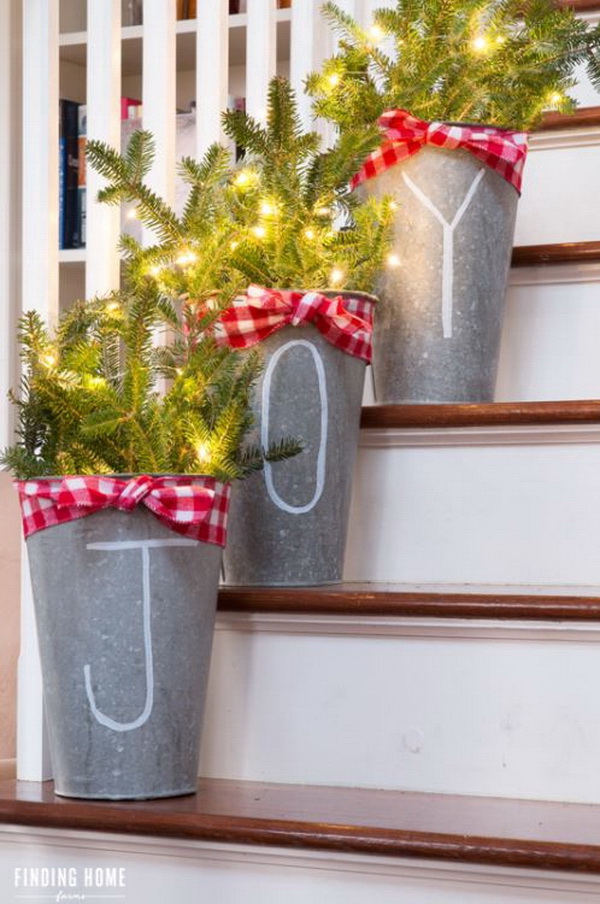 Fill three buckets with pine tree branches and string lights, and add a handmade bow for addition. The JOY sign will bring the spirit and joy of Christmas.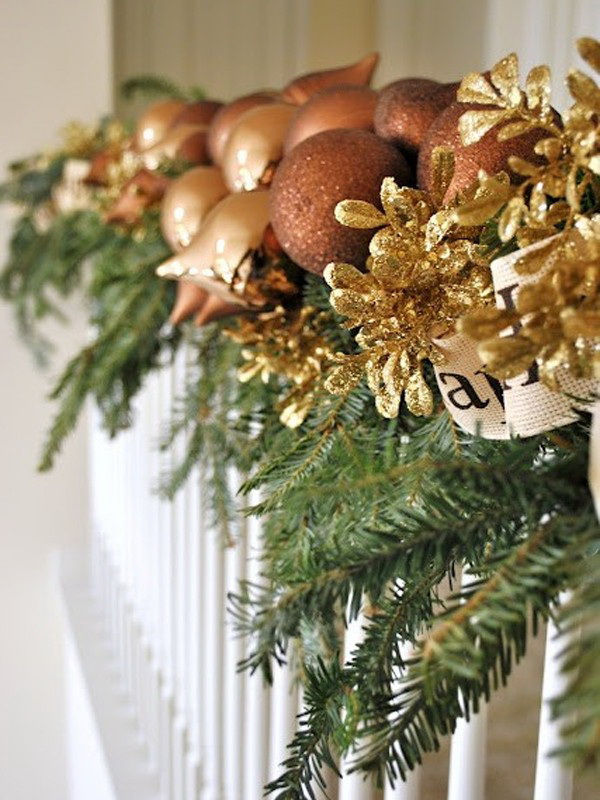 Metallic ornaments enhance the beauty and décor of the home manifolds.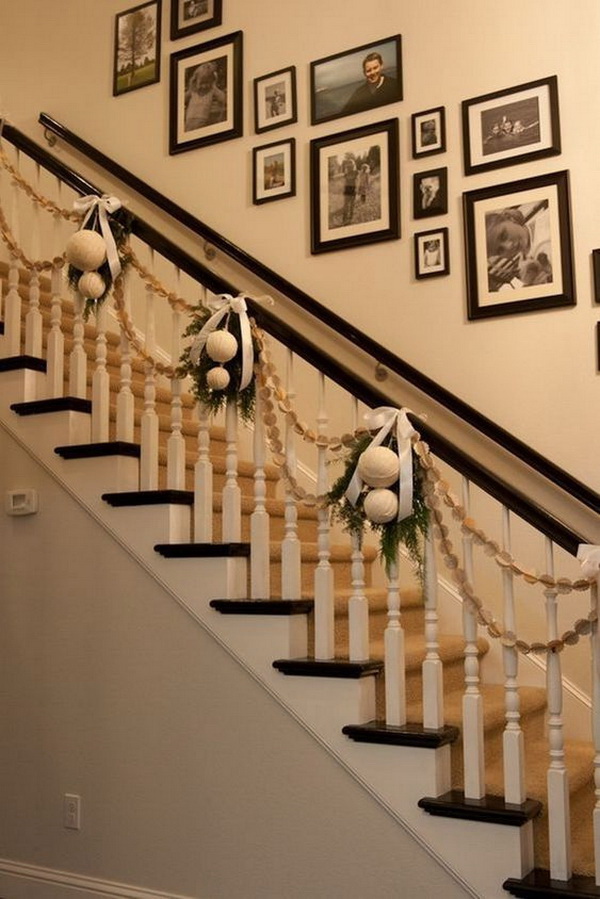 Creamy white for a rustic farmhouse look!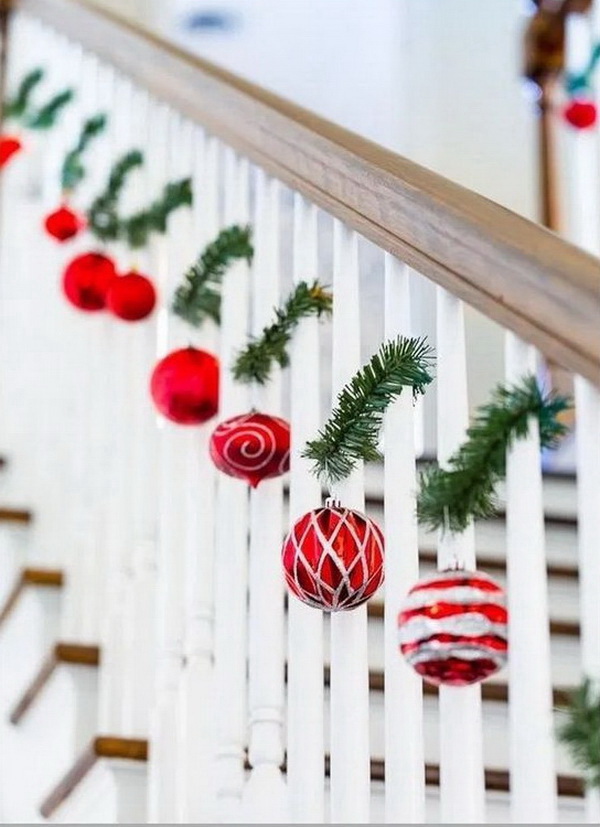 Holiday ornaments by hanging with a piece of pine leave.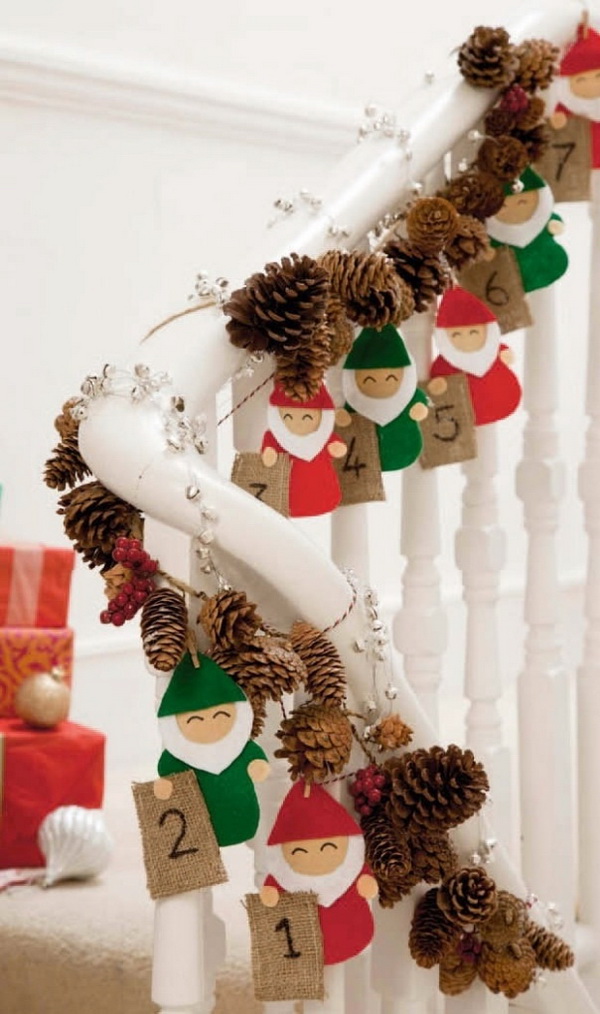 Make these little felt Santas calendars are to count the days until Christmas. A novel idea for Christmas countdown and decoration.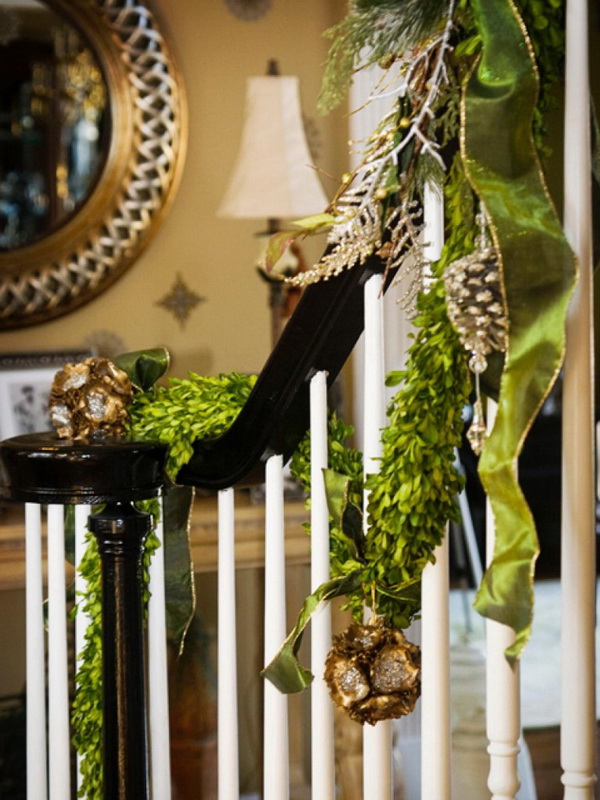 The green garland and metallic ornaments are going great with the black railings.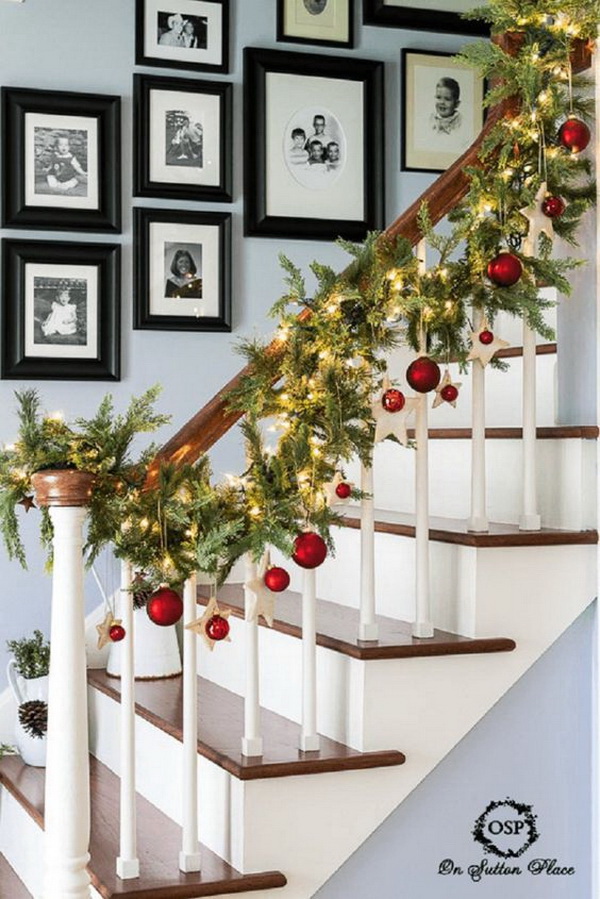 A touch of vibrant red and green for the tried and tested traditional look!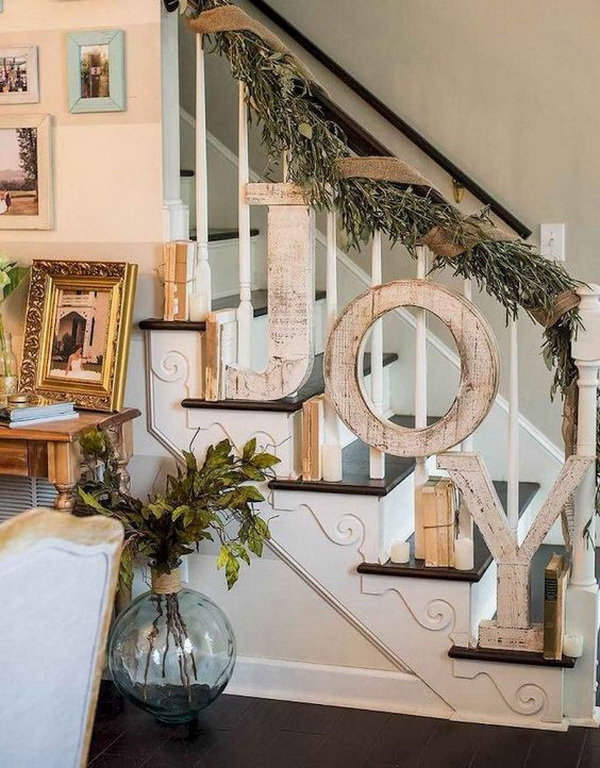 Wooden JOY sign for the rustic look.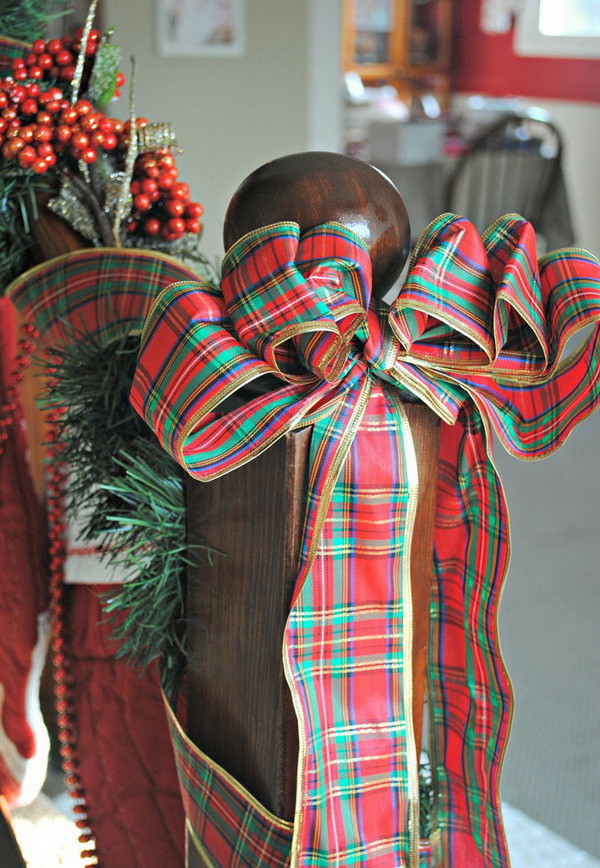 Red ribbons encircle the garland of the railings of this staircase and end in a large checked ribbon with long streamers. The Christmas red berries and evergreens along with the handrail.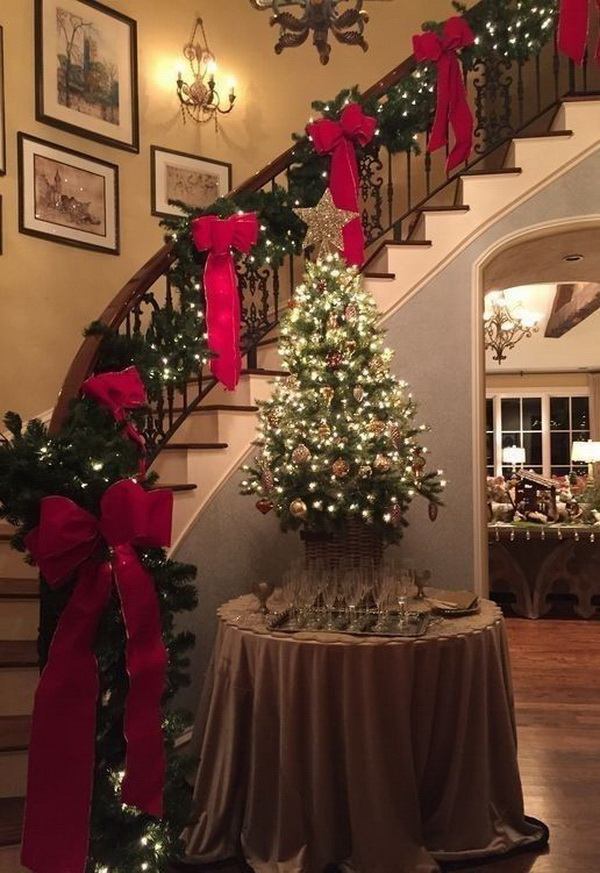 Red and green staircase decorations. The staircase is decorated with evergreen garland, string lights and Christmas bows. A traditional decoration idea for Christmas!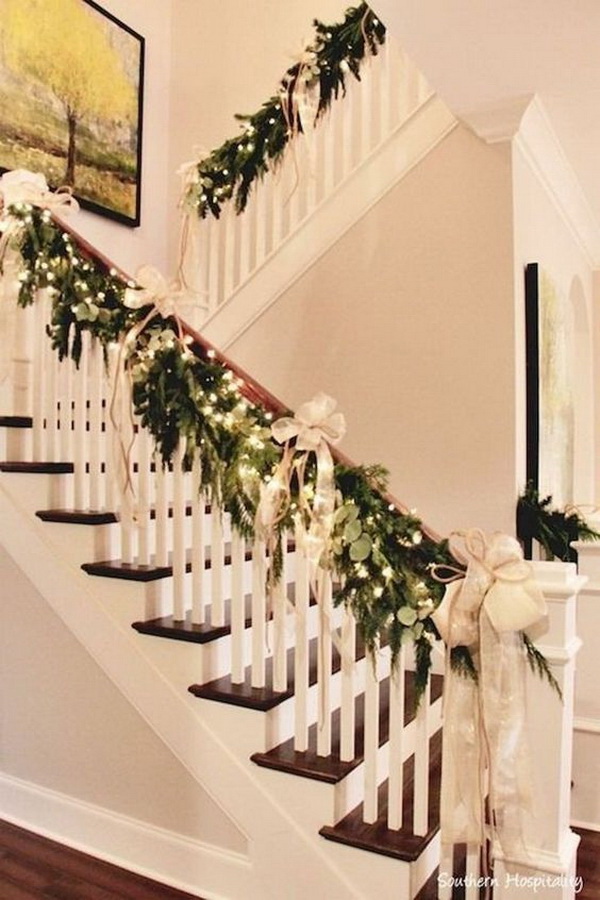 Evergreens garland, combined with burlap ribbon and string lights is used to decorate the staircase. The design is minimal, yet effective.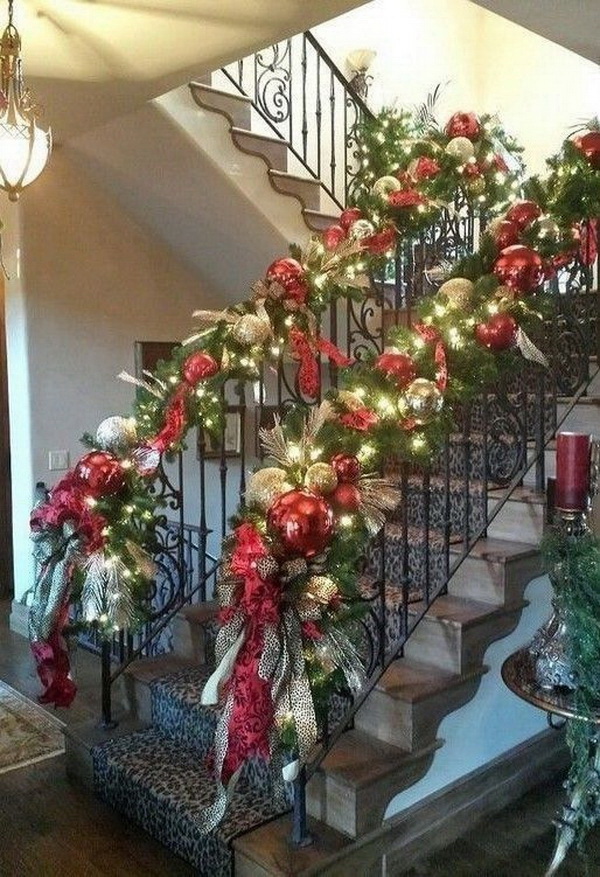 Merry and bright staircase decoration. All colors used for this staircase decoration are downright Christmassy.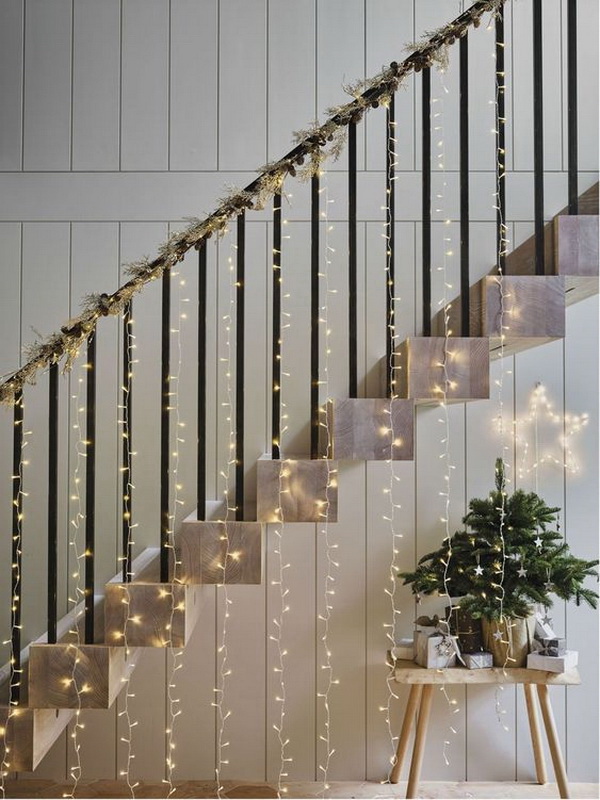 Lines of string lights along the stairs for a simple decoration for Christmas stairs.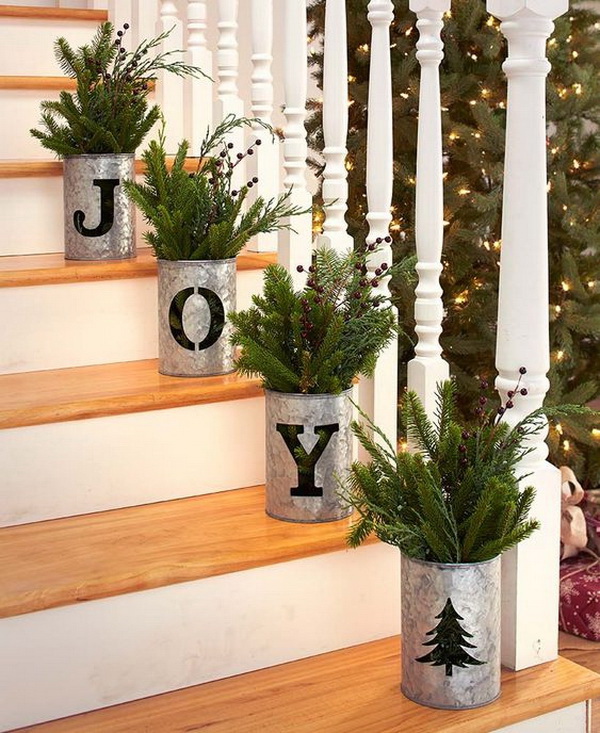 These decorative 4 pieces galvanized holiday buckets for Christmas stairs decoration.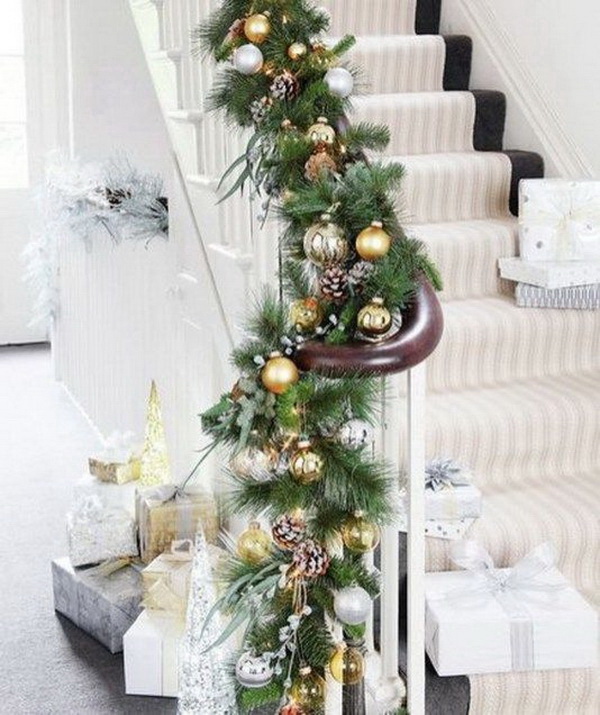 The traditional Chrisrmas stair decorations with everreen leaves, pine cones and gpld holiday ornaments.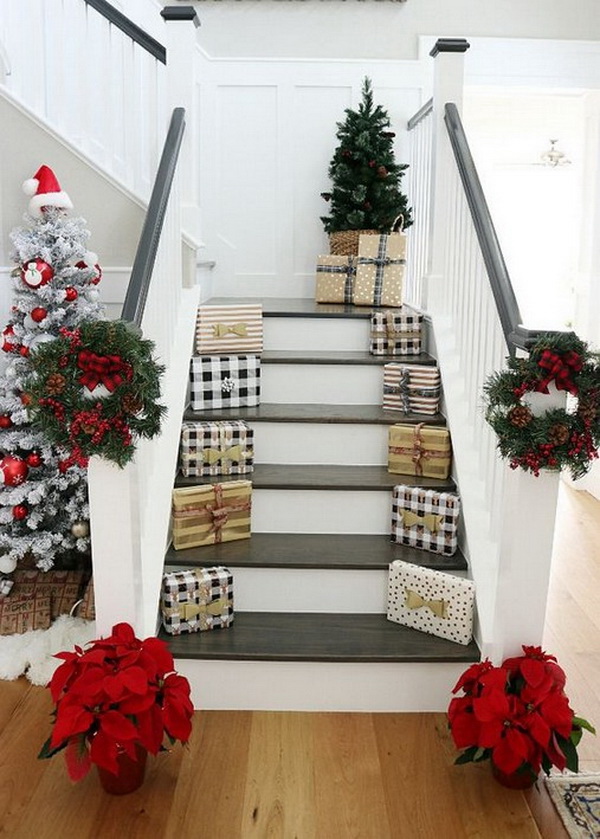 Wrapped present boxes for Christmas stair decoration.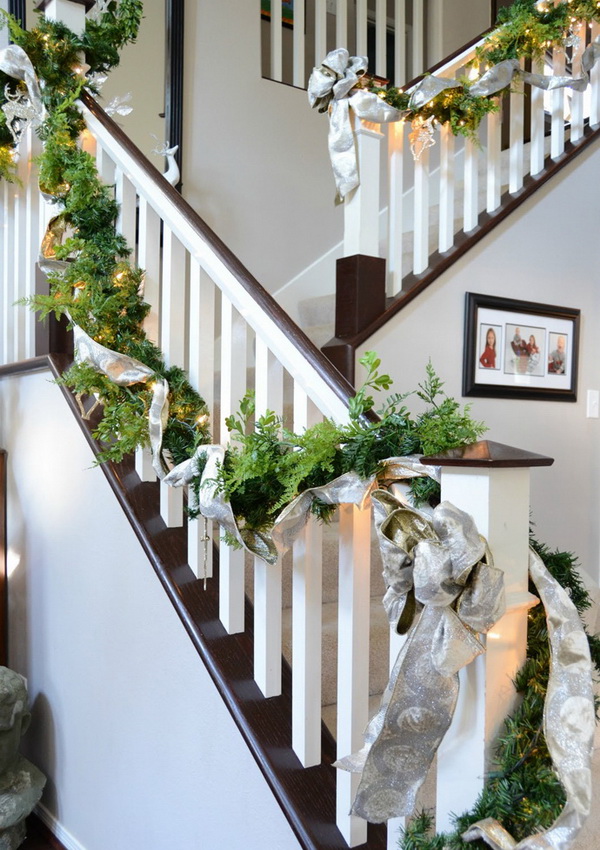 Evergreen garland combined with silver ribbon is used to decorate the staircase.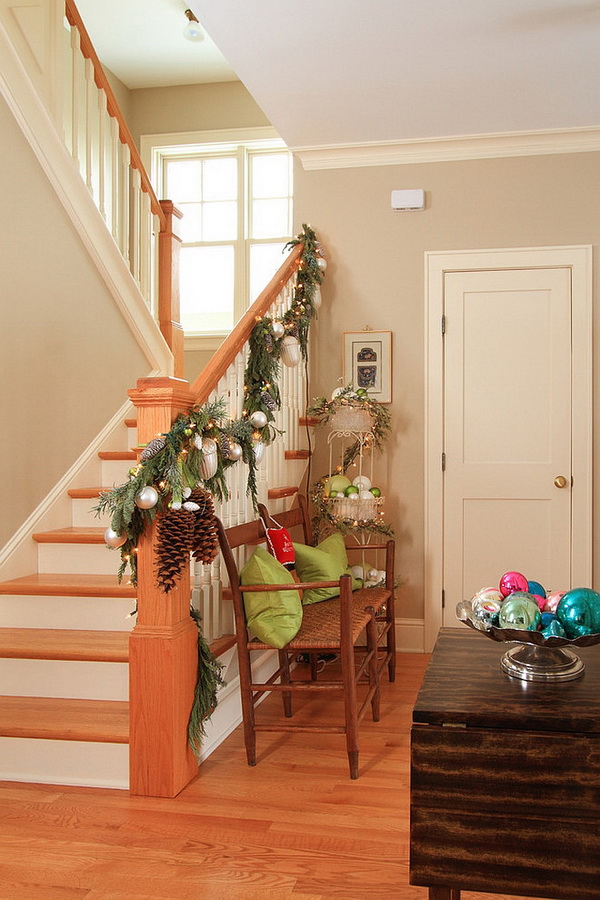 Simple staircase Christmas garland for the farmhouse style home.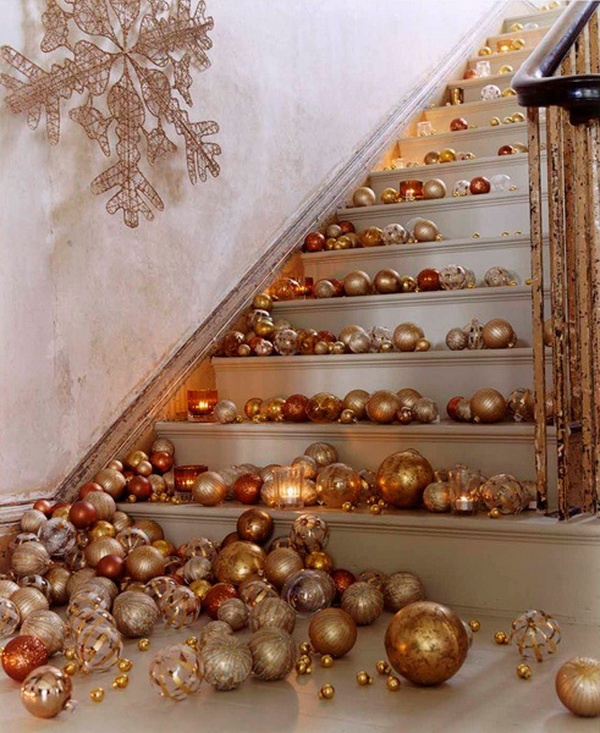 Metallic ornaments strewn on the stairs.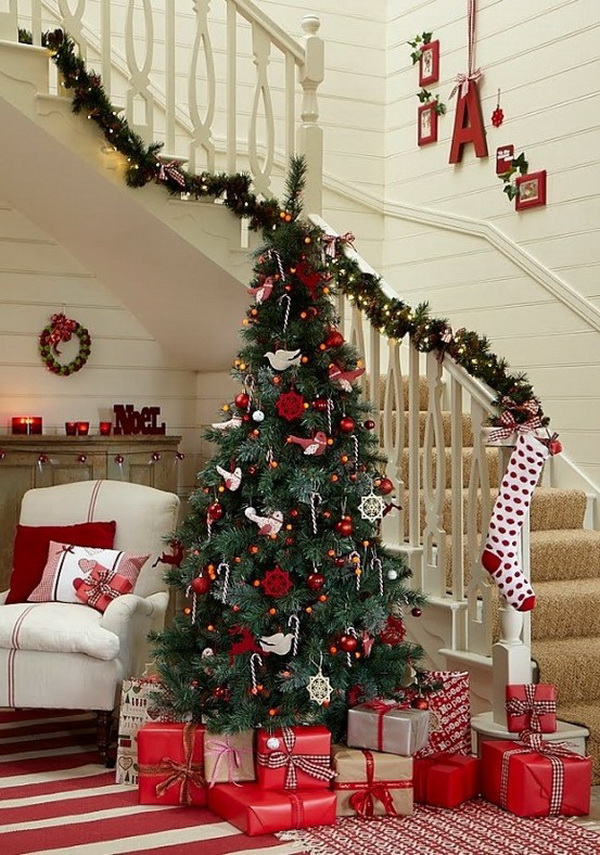 Give your traditional staircase a burst of fresh color by adding a layer of bells, string lights, holiday ornamets and greenary.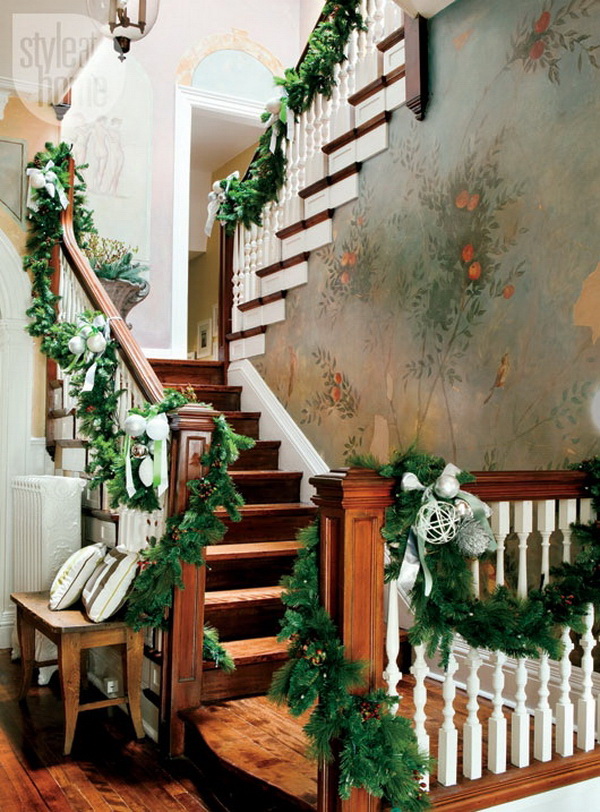 Pine leaves garland and silver ribbons and ornaments for the simple and natural decoration for stairs.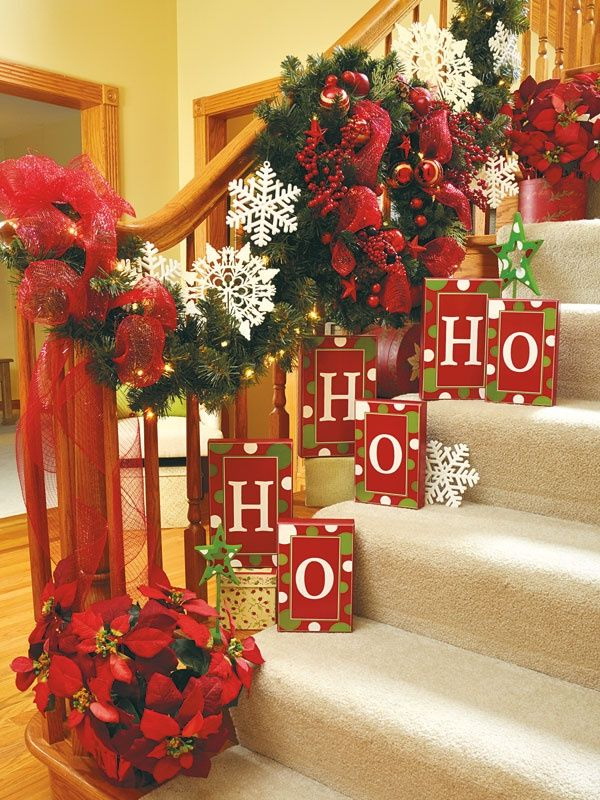 Ho Ho Ho decorations for Christmas stairs. Vibrant colors of red mesh ribbons, evergreens and snowflake ornaments.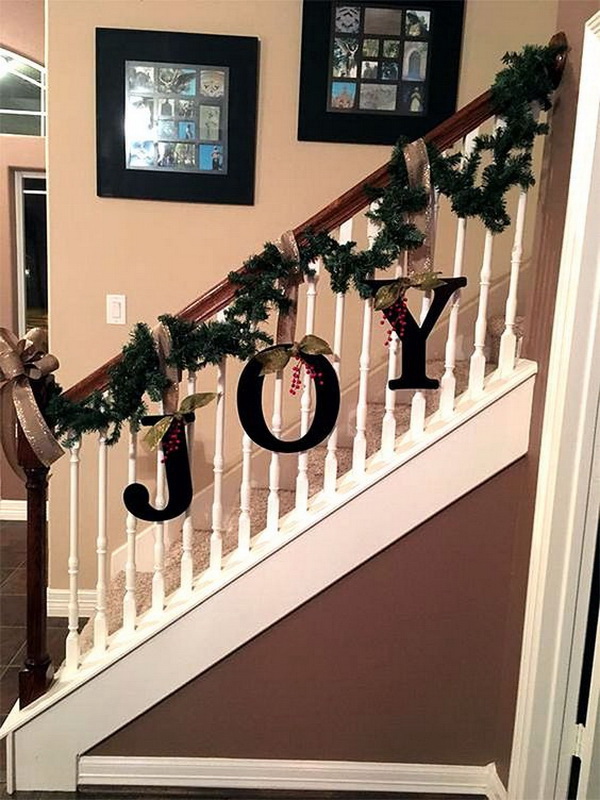 Wooden JOY sign and evergreen garland for Christmas staircase decoration.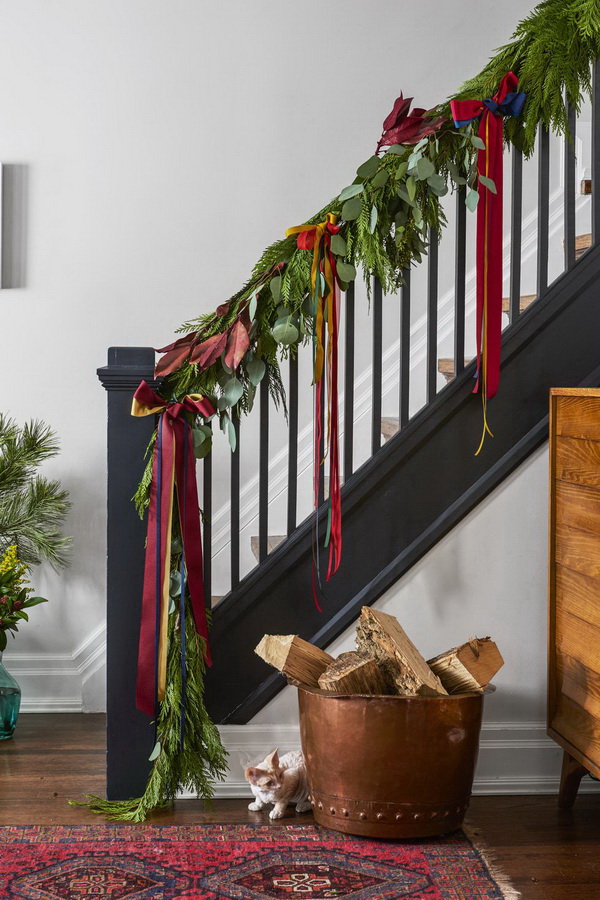 Evergreen garland and long holiday bows for a natural decoration. The hue of red and gold brings vibrant colors.